Getting to the Event
This ride will start at UQ St Lucia campus, on the Eleanor Schonell Bridge on Sunday 17 October, 2021.
Rider ID Collection Times
Bicycle Queensland – 16/43 Lang Parade, Milton Queensland 4064
Thursday 9-2pm, Friday 9-5pm or Saturday 9-11
You can collect on event morning but it may be busy so please allow plenty of time.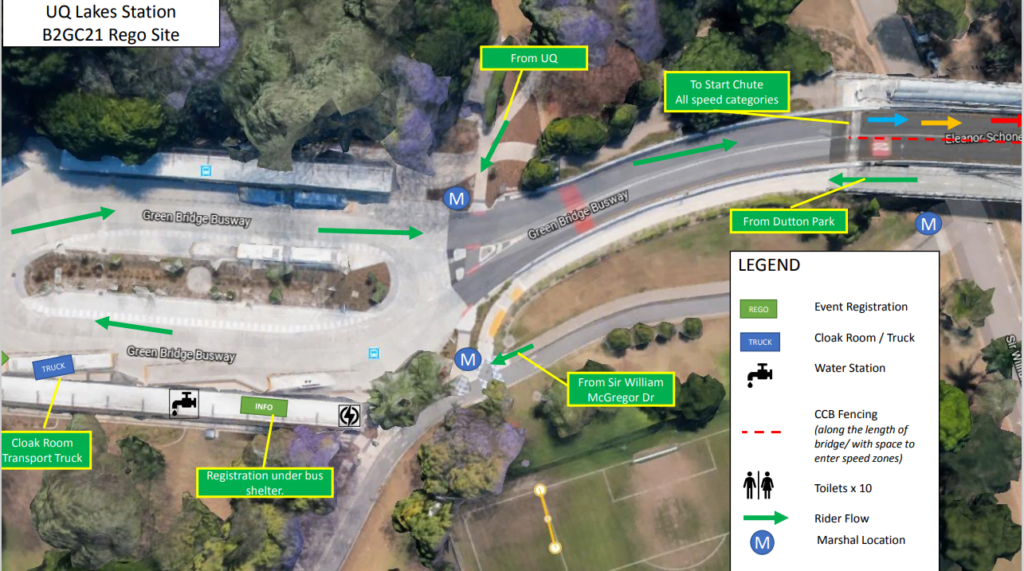 Approximate start times (progressive from):
30+km/hr (red) 5.30am
25-30km/hr (orange) 5.45am
<25km/hr (blue) 6.10am
Last rider must enter busway by 6.20am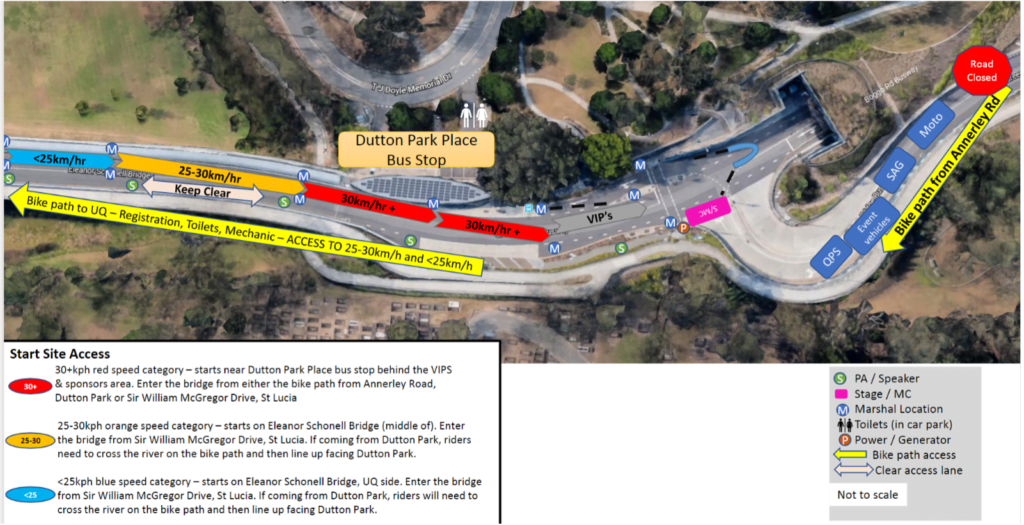 ---
Ride in or get dropped off
Direct access to the start site is restricted to bike riders only.
UQ side drop off
Please drop off in the bus parking on Blair Drive, UQ St Lucia (beside the aquatic centre). This is a short distance along Sir William MacGregor Dr to the start site and drivers can continue on Blair Dr, turn right onto Campbell Rd and link back up with Sir Fred Schonell Dr.
Dutton Park side drop off
Please ensure you are dropped off a few streets away from the Green Bridge Busway so as not to cause congestion. The Green Bridge from Dutton Park to UQ will be open to bicycles and pedestrians (as normal) to enable you to get to the UQ Lakes bus stop side of the start site. Vehicle access is not permitted at any time.
Drive in and park at UQ (free on Sundays)
UQ has various parking options available on Sundays. The closest options to the start are:
Along Sir William MacGregor Drive, UQ (the wrap-around road of UQ)
UQ Centre car park (P10) off Union Rd, UQ
Train (Public Transport)
Pre-booked Charter train from the Gold Coast SOLD OUT – Train arrives at Dutton Park station 5.00am* Your bike travels with you on the train. Please note train tickets have been sold out.
Not a BQ member? check out our offers and join today!
Rider ID Packs
Your rider ID pack contains your bike plate and twist ties to attach it to your handlebars. Attach this plate before arriving at the start site with your number clearly displayed (do not wrap it around your bars). Participants are to attach their rider plates as below using the provided twist ties in your rider envelope.
Additionally, if you:
Are a Bicycle Queensland member you will also receive a ride plate with the number in GREEN which indicates you are a Bicycle Queensland member and a green wrist band that will give you access to the Bicycle Queensland marquee at the finish site.
Booked on the charter train service from the Gold Coast you will also receive a wristband to wear on the train, this is your train ticket.
Booked a bus ticket to travel back to Brisbane, this is to be collected from the Transport Tickets marquee when you arrive at the finish site. When you arrive at the finish site at Michell Park go to the marquee to book your return ticket time slot. Buses will leave every half hour.
If you want to add a return bus ticket then you can do this through the "View My Events" box at the bottom of your confirmation email and then select "add merchandise". If you have any trouble, please contact the team at 31390398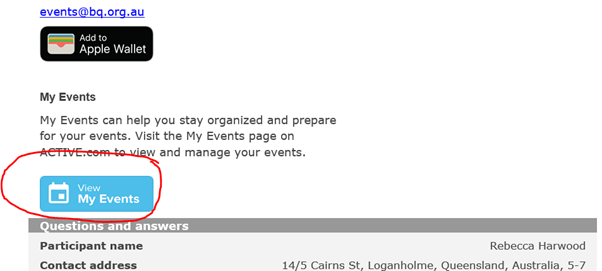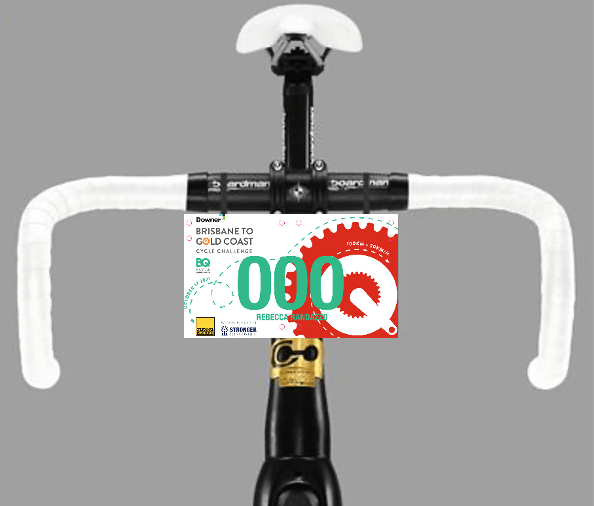 Download the 100km route here:
https://ridewithgps.com/routes/36666442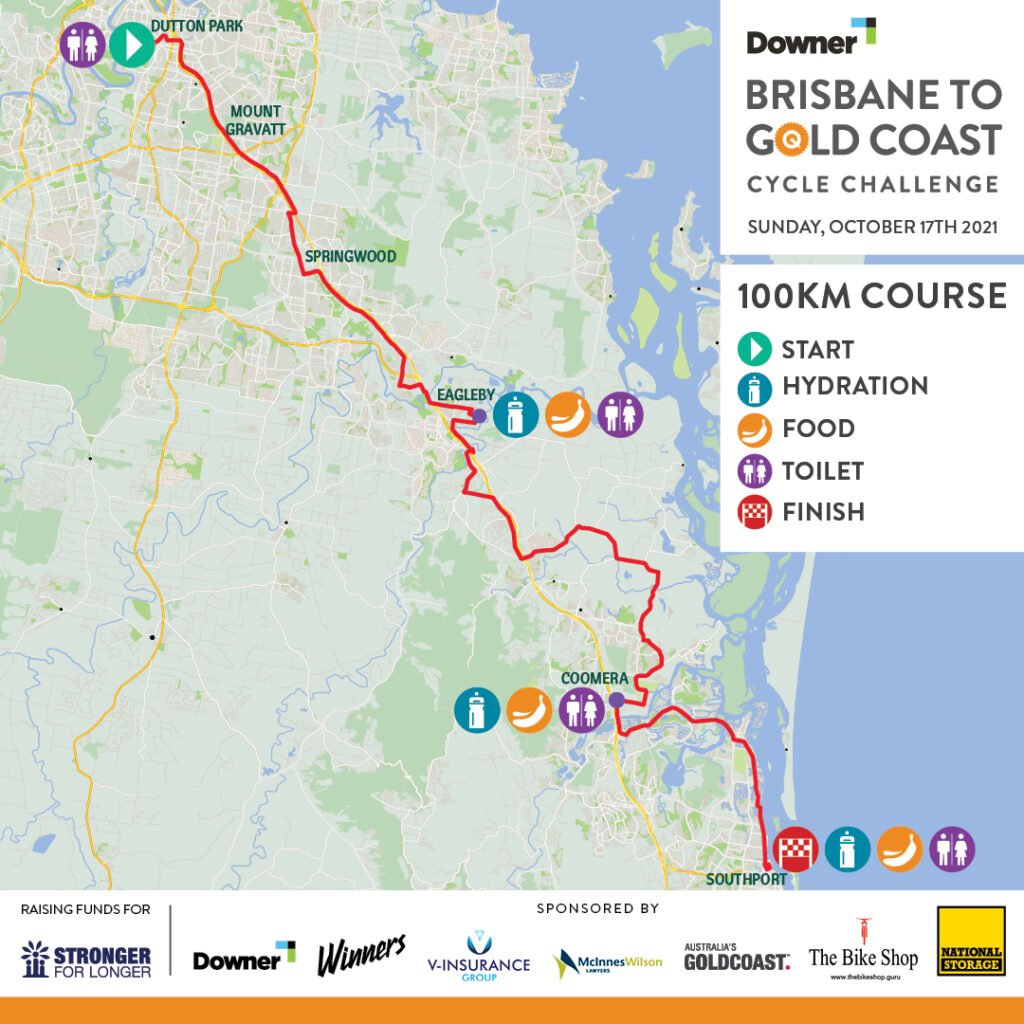 Rest stops
Rest stop 1
Oliver Sports Complex, Eagleby
Experience a taste of France as you pull through rest stop 1. Indulge in Croissants, Pain au Chocolat, fruit, Winners bars and. Refill the bottles with Edge electrolytes and water to keep you hydrated until rest stop 2!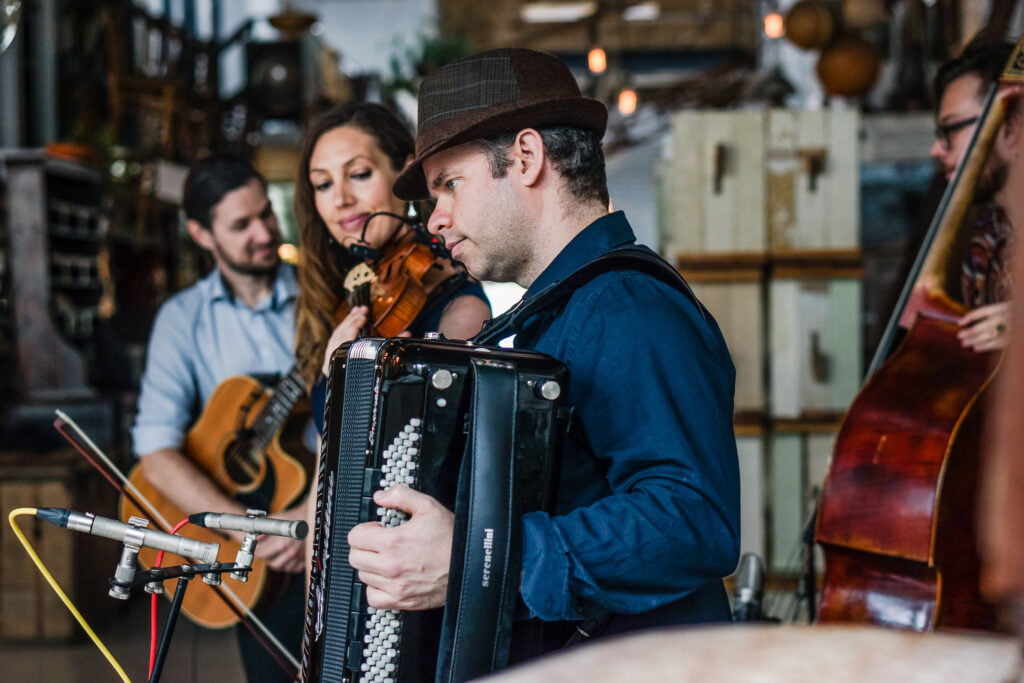 Rest stop 2
Coomera State School
Experience a taste of home with the Australian themed rest stop 2. Here you can refuel the body with Lamingtons, fruit buns, bananas, Edge electrolytes, water and Winners gels.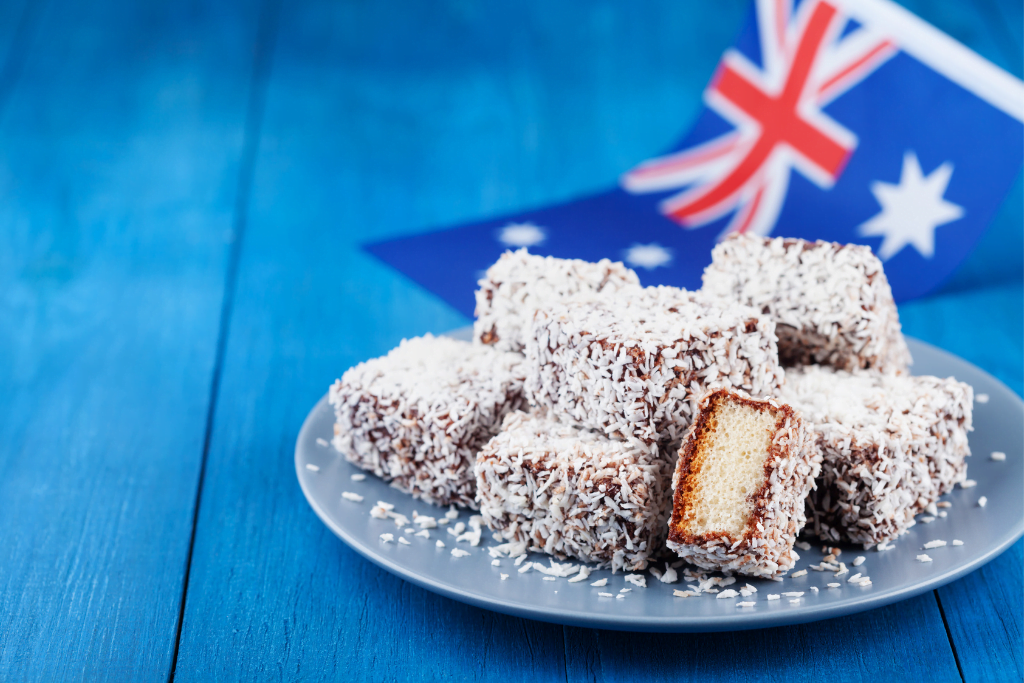 Finish Line event
This year the finish line festival will be hosted at Fisherman's Lawn, Southport. Once crossing the line and catching your breath, what better way to celebrate than with all the other riders at a jam-packed Finish Line Festival. Open to challenge participants and the general public, the festival will play host to live entertainment, pop-up food and drink stalls, rider massages and much more.
Remember other participants will still be finishing the ride – please keep the finish area clear.
Drink some fluid and eat something straight away.
Enjoy live entertainment plus food and drink vendors from 9am-12pm. Enjoy the taste of Sobah Sobah Non-Alcoholic Beverages when you finish.
If you have booked return transport for you and your bike, visit the transport marquee to book onto a return services and collect your ticket.
Be proud of yourself, you conquered the ride and were part of Queensland's biggest and best bike ride!
Please note: There is no parking available – but you could have family or friends try to park up at Broadwater Parklands if you are getting picked up it is recommended you ride a short distance away from the site. Bus services are available back to Brisbane.
All photos taken by our event photographers will be available to download FREE of charge after the event. Don't forget to smile when you are being snapped! You will receive an email with a link to your pics in the days following the ride.
Below is a map and directions on how to ride to Helensvale Train Station.
Directions to Helensvale Train Station from the finish line.
Rider Rules
Please follow all directional signage at all times. Signs are not at every intersection, so do not turn off a street until the signs indicate to.
You will be sharing the road with normal road users. Normal road rules always apply and especially note:
You must stop at red lights unless a police officer is waving you through.
Do not pass on the left at any time.
Ride no more than two abreast and allow traffic to pass safely.
Remember, each and every rider is a cycling ambassador on the day – it is very important we all do the right thing and set a good example for all road users. Also, support your fellow riders and give them as much support as possible along the way.
Please keep the roads we enjoy litter free. Keep any wrappers and rubbish in your pockets. There are bins at each stop.
This event is NOT A RACE. There is no prize for arriving first. Racing is actively discouraged and may cause you to be excluded from the event.
There will be a large number of riders participating in the event so please be patient.
Start straight – have your bike in an easy gear so you do not wobble.
Ride smoothly – erratic riding such as hard braking or sudden swerving can cause accidents.
Give yourself space – riding too close to others will increase the chance of a problem if they ride erratically. Space means you can see ahead and plan for potholes, traffic or changes in direction.
Calling your moves in advance, such as 'passing' or 'stopping', is very helpful to others.
Riders passing each other in an unsafe manner is the most likely cause of accidents. To reduce this risk please be patient, exercise caution when passing others, please keep left and ride a consistent line.
If you need to stop and walk at any stage please move to the extreme left before dismounting and use the footpath if available.
Please also refresh yourself with the current Road Rules here.
What happens if I can't continue to finish the ride?
If your bike has let you down or you body just isn't up to getting to the finish line, that is totally ok as we have a friendly SAG team (sweep buses) who will be following the last rider with another deployed where needed. If you have not made the cut off times you will be asked to board the SAG wagon and will be driven to the next location to continue the ride.
If you do not wish to board the bus then you will be required to hand your rider bib to the bus driver as you will no longer be part of the event. This is a requirement of the Queensland Police Service. We will have water and small refreshments on the bus as a little incentive.
What happens if I have a mechanical?
A bicycle mechanic will be at the rest stop and mobile mechanics will be along the course. If you require mechanical assistance, please move off the road, turn your bike upside down and wait. Mechanical assistance is free of charge, however, parts (i.e.tubes) need to be paid for, so remember to bring a spare tube and/or puncture repair kit with you.
We recommend you visit your local bike shop for a service in the lead up to the event. Or if you're in the Logan Area you can visit our bike shop sponsor THE BIKE SHOP who will give all B2GC participants 10% off their bicycle service, just quote promo code when booking the service with them: B2GC21
COVID
We have been working closely with Queensland Health and following all relevant processes to provide a safe event for all participating.
We have implemented a range of measures for this year's event to ensure it is safe and fun for everyone. For more information please visit the COVID FAQ section of the website.