DOWNER BRISBANE TO GOLD COAST CYCLE CHALLENGE

The B2GC is an iconic Queensland event and one of the most popular mass participation bike rides in Australia. In 2021 riders can choose from three distances – the classic 100km Brisbane to Gold Coast, 40km from Brisbane to Logan or 60km from Logan to the Gold Coast.
Get ready to join Bicycle Queensland as we celebrate the 16th year of B2GC!
The 100km riders will begin on the Eleanor Schonell Bridge (Green Bridge) in Dutton Park and head straight into the Busway for an uninterrupted traffic-free 15km start all the way out of Brisbane. After exiting the Busway the course then follows a combination of service and suburban roads all the way to the Broadwater Parklands at Southport on the Gold Coast with a couple of rest stops in between. The course is mostly flat (less than 450 metres of climbing over 100km) with only a few inclines along the way. It is suitable for people with a moderate level of fitness.
The 40km riders will follow the 100km riders from the Green Bridge, along the Busway, out onto the open roads (some of which are quite scenic) before finishing at the first rest stop in Logan (a short ride away from the Beenleigh Train Station). This distance is perfect for those wanting the thrill of a mass start at sunrise and riding along the Busway.
The 60km riders begin at the first rest stop in Logan – immediately joining in with the 100km riders and travelling together all the way to the Coast. This distance is great for people who would prefer a slightly later, less-hectic start and the joy of riding through the finish arch at the end and buzz of the finish site festival.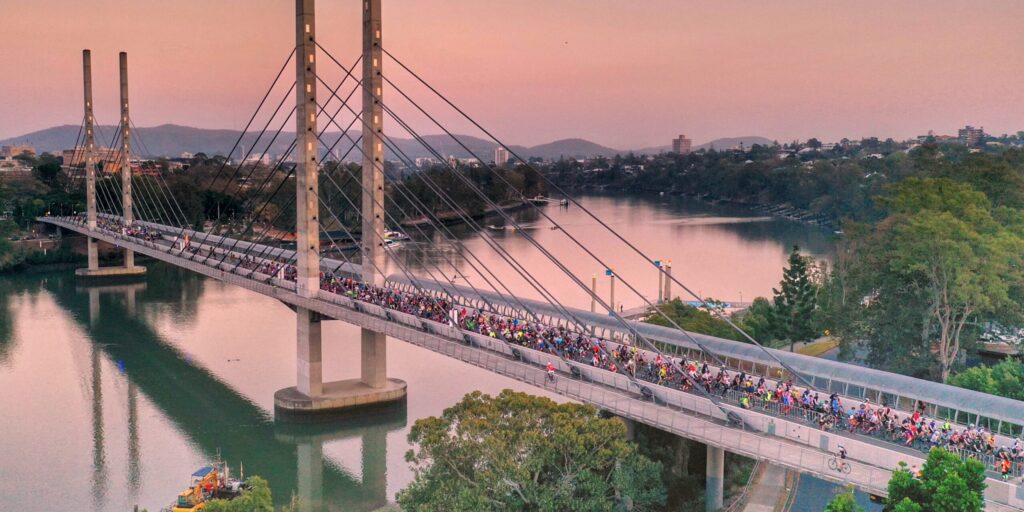 Getting to the start line is easy!
If you are driving, we suggest you park at the University of Queensland. There's ample parking on the street.
If you are catching our early morning charter train from the Gold Coast – this service will stop at Dutton Park Station. Police and marshals will be in place to assist everyone to cross Annerley Road and then it is an easy roll down to the bridge.
For those of you riding, it's only 3km from the old start line in Grey Street at South Bank, with a gentle incline to get you warmed up!
Wondering about anything else? Check out the FAQs