Chartered train to start line
A train has been chartered from the Gold Coast to the start site to arrive prior to event start. You can book a ticket for this service when registering for the event. The train will start at Varsity Lakes and stop at Nerang, Coomera and Beenleigh.
You will receive a specific wristband for entry to this service, which must be worn to board and while on the train. Your bike travels with you on the train. Limited tickets are available for this service.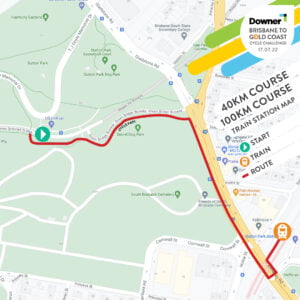 Post ride buses back to Brisbane
Return buses will be running approximately every half hour from 10.30am – 1.30pm from Fisherman's Lawn Southport to Dutton Park, Peter Doherty Street bus zone on event day. This ticket also includes transporting your bike back to Brisbane on a truck that runs in tandem. Purchase of tickets can be made during registration – Please note you will not receive a physical ticket before the event, these are collected on the day at the finish site.
Train back to Brisbane
You can ride approx 10kms from the finish site to Helensvale Train Station and hop on the train back to Brisbane. These train services are normal Translink train services – please check the Translink Journey Planner for train times Journey planner | TransLink
Rider packs
Participants who have registered between 17 July and 25 September and paid for postage will receive their rider packs in the mail prior to the event. Participants who register after the cut-off date will need to collect their rider packs from one of the listed locations:
19 Brereton Street, South Brisbane on Saturday 22 October 10am-3pm (BQ office)
Fisherman's Lawn Southport on Saturday 22 October 10am-2pm (finish site)
Eleanor Schonell Bridge on Sunday 23 October from 5 am (event morning)
All registered riders will receive an email with a QR code on Friday to pick up their rider pack at one of the collection sites above.
The finish line festival will be located at Fisherman's Lawn Southport. Once crossing the finish line it's' time to celebrate your achievement and refuel with a range of pop-up food and drink stalls, rider messages and live entertainment.
Please note: There is no parking available – but you could have family or friends try to park up at Broadwater Parklands if you are getting picked up it is recommended you ride a short distance away from the site. Bus services are available back to Brisbane.
Please follow all directional signage at all times. Signs are not at every intersection, so do not turn off a street until the signs indicate to.
You will be sharing the road with normal road users. Normal road rules always apply and especially note:
You must stop at red lights unless a police officer is waving you through.
Do not pass on the left at any time.
Ride no more than two abreast and allow traffic to pass safely.
Remember, each and every rider is a cycling ambassador on the day – it is very important we all do the right thing and set a good example for all road users. Also, support your fellow riders and give them as much support as possible along the way.
Please keep the roads we enjoy litter free. Keep any wrappers and rubbish in your pockets. There are bins at each stop.
This event is NOT A RACE. There is no prize for arriving first. Racing is actively discouraged and may cause you to be excluded from the event.
There will be a large number of riders participating in the event so please be patient.
Start straight – have your bike in an easy gear so you do not wobble.
Ride smoothly – erratic riding such as hard braking or sudden swerving can cause accidents.
Give yourself space – riding too close to others will increase the chance of a problem if they ride erratically. Space means you can see ahead and plan for potholes, traffic or changes in direction.
Calling your moves in advance, such as 'passing' or 'stopping', is very helpful to others.
Riders passing each other in an unsafe manner is the most likely cause of accidents. To reduce this risk please be patient, exercise caution when passing others, please keep left and ride a consistent line.
If you need to stop and walk at any stage please move to the extreme left before dismounting and use the footpath if available.
Please also refresh yourself with the current Road Rules here.
Please watch our rider brief video here
What happens if I can't continue to finish the ride?
If your bike has let you down or you body just isn't up to getting to the finish line, that is totally ok as we have a friendly SAG team (sweep buses) who will be following the last rider with another deployed where needed. If you have not made the cut off times you will be asked to board the SAG wagon and will be driven to the next location to continue the ride.
If you do not wish to board the bus then you will be required to hand your rider bib to the bus driver as you will no longer be part of the event. This is a requirement of the Queensland Police Service. We will have water and small refreshments on the bus as a little incentive.
What happens if I have a mechanical?
A bicycle mechanic will be at the rest stop and mobile mechanics will be along the course. If you require mechanical assistance, please move off the road, turn your bike upside down and wait. Mechanical assistance is free of charge, however, parts (i.e.tubes) need to be paid for, so remember to bring a spare tube and/or puncture repair kit with you.
We recommend you visit your local bike shop for a service in the lead up to the event.