Opportunities for Greatness!
The 2021 Downer Brisbane to Gold Coast Cycle Challenge takes an enormous effort to organise and simply would not be possible without the generous help of a large team of volunteers. Keep scrolling to view roles and apply today!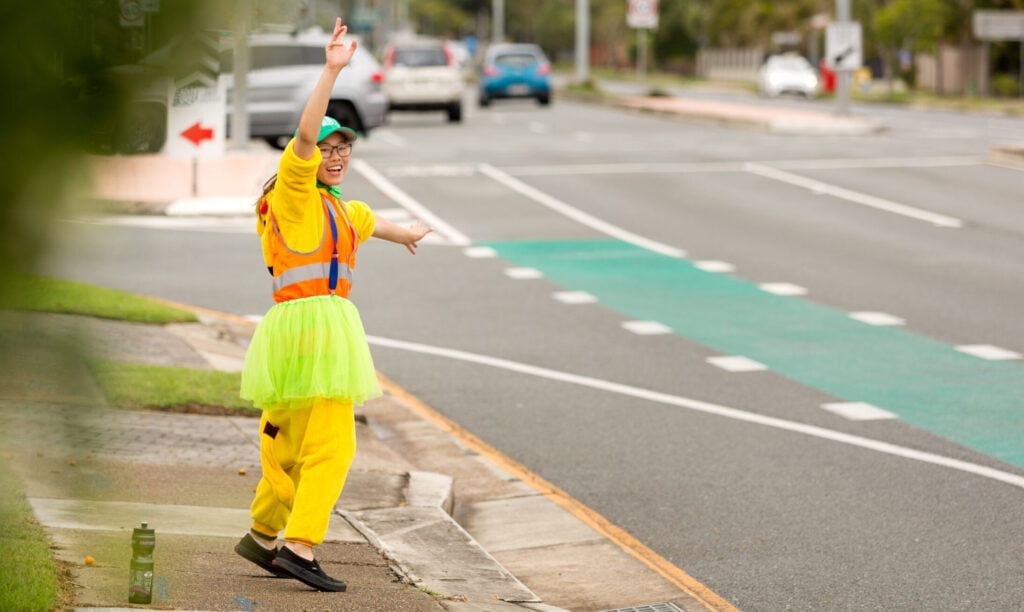 Becoming a volunteer on B2GC is all about learning new skills, meeting new people and having fun. There are a wide variety of volunteer roles available at the start and finish sites as well as along the bike route. Roles include general admin, distributing food at rest stops, cheering on the riders, customer service, being a marshal out on the bike route, helping load bikes into trucks, handing out fruit and many more.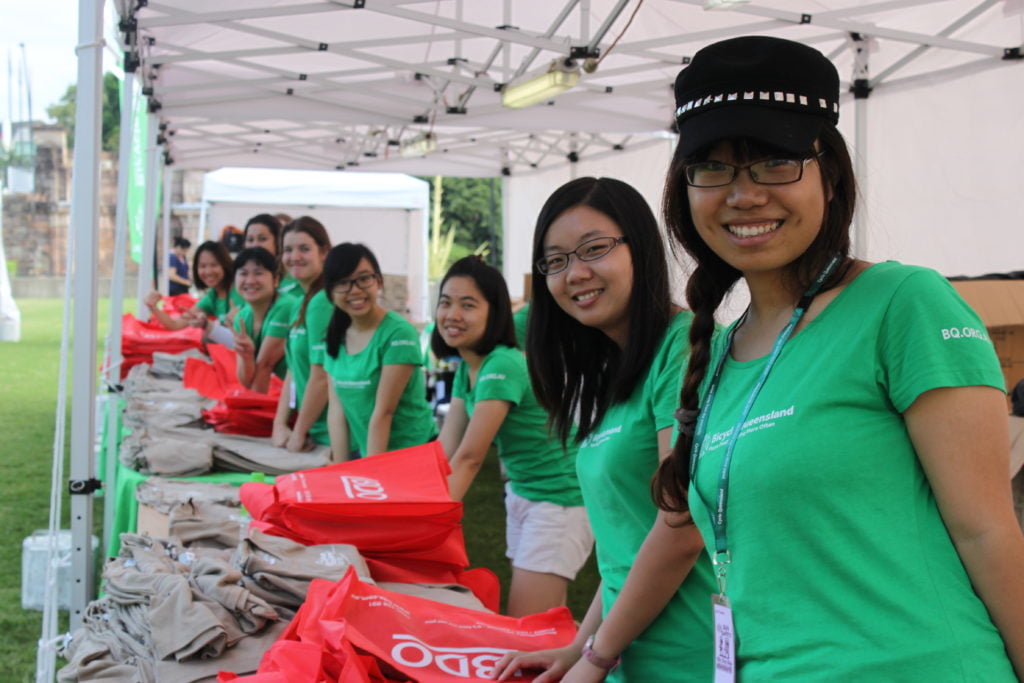 WE SUPPLY YOU WITH
A vest and hat
Insurance cover
Certificate of Appreciation
Sunscreen
A meal (if you work more than four hours)
A briefing on your role and responsibilities

Did someone say $250 gift voucher*? That's right – if you register to volunteer by Monday August 30th you'll go in the draw to win a $250 bike shop voucher from our partners at The Bike Shop (Shailer Park). *Please note the voucher will be distributed on the day of the event.
---
POSITIONS AVAILABLE
You can apply using the form at the bottom of the page, if you have any questions please email events@bq.org.au
Please read the Volunteer T&C's here.
– Finish Site All Rounder
Reporting to Volunteer Coordinator, Mitchell Park, Marine Parade, Southport. Sunday 17 October (Shift #1 – 5.15am-10.30am) and (Shift #2 – 10.15am-3pm)

– Finish Site Bike Transport
Reporting to Transport Coordinator, Mitchell Park, Marine Parade, Southport Sunday 17 October – 9.30am – 2.00pm

– Finish Site Customer Service Assistant
Reporting to Transport Tickets and Cloakroom Team Leader, Mitchell Park, Marine Parade, Southport Sunday 17 October, 7.30am – 2.00pm

– Finish Site Member Marquee
Reporting to Volunteer Coordinator, Mitchell Park, Marine Parade, Southport Sunday 17 October (Shift #1 – 5.30am – 10.30am) (Shift #2 – 10.15am – 3pm)

– Finish Site Volunteer Assistant
Reporting to Volunteer Coordinator, Mitchell Park, Marine Parade, Southport, Gold Coast Sunday 17 October – 6.45am – 2.30pm

– Motorcycle Marshal
Reporting to Route Manager, Various locations on course, Sunday 17 October – 5:00am – 12 noon (maximum – more than likely will be shorter, based on course zone allocation)

– Pre-event Notification Distributor
(Any day within 2 weeks prior to the event. Suburbs required include; Tenah Merah, Loganholme, Ormeau, Coomera and Southport)

– Pre-event Office Assistant (Rider Kit Packing & Hand Out)
Reporting to the Events Team, Bicycle Queensland office, 16/43 Lang Parade, Milton.
Rider Kit Packing Day 1: 10am-3pm, Thursday 23rd September
Rider Kit Packing Day 2: 10am-3pm, Friday 24th September
Rider Kit Packing Day 3: 10am-3pm, Monday 27th September
Rider Collection Day 1: 8am-6pm, Thursday 14th October
Rider Collection Day 2: 8am – 6pm, Friday 15th October
Rider Collection Day 3: 9am-11am, Saturday 16th October
– Rest Stop Crew
Reporting to Rest Stop Team Leader,
Rest Stop 1 – Loganholme, Sunday 17 October– 5.30am – 9.45am
Rest Stop 2 – Coomera, Sunday 17 October – 6.30am – 12.15pm
– Route Marshal
Reporting to Route Manager, All positions are for Sunday 17 October at the following times (note: some positions will only last 2 hours, and marshals may be asked to relocate to another position)
Various locations (on route) Rochedale to Eagleby – 5.30am – 9:00am
Various locations (on route) Eagleby to Southport, 6.10am – 1.00pm
– Start & Finish Site Marshal
Reporting to Start and Finish Site Coordinators.
Start Site Marshals: Eleanor Schonell Bridge, UQ St Lucia and Dutton Park, Sunday 17 October – 3.45am–7.00am
Finish Site Marshals: Mitchell Park, Southport, Gold Coast, Sunday 17 October- 7.45am–1:30pm
– Start Site Rider Registration & Customer Service
Reporting to Customer Service Team Leader., UQ Lakes Bus Stop, Sunday 17 October – 3.30am – 6.30am
Downer Brisbane to Gold Coast Cycle Challenge 2021 Volunteer Registration