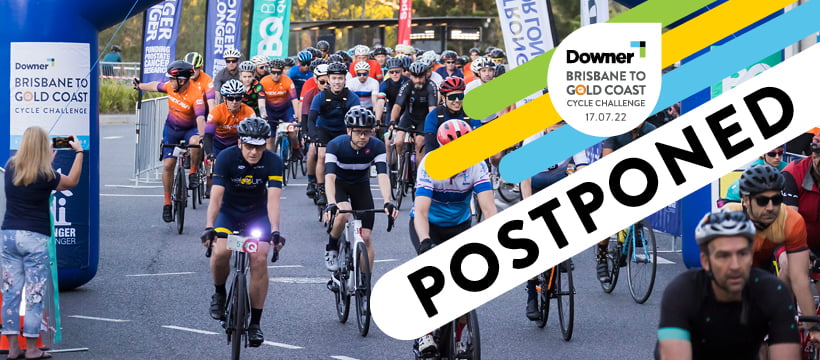 Due to the high circulation of COVID-19 and the flu in the community, as well as the significant rain fall in SEQ over May, June and July, we have made the difficult decision to postpone the Downer Brisbane to Gold Coast Cycle Challenge (B2GC) this year.
These ongoing challenges are making it extremely difficult for us to deliver the event to the safety standards we set and are affecting a number of our wonderful volunteers and event contractors.  
B2GC will now be held on Sunday 23 October 2022.
We know so many of you are looking forward to participating in our event next Sunday, and our priority now is to work with our sponsors, stakeholders and relevant authorities to make B2GC as enjoyable as possible for our community.
To find out information about the new date and revised participation options please visit the website here. All registered participants should receive an email today with further information regarding updated event information.
If you have any further queries, please email events@bq.org.au.
We appreciate your understanding and look forward to welcoming you to Queensland's most cherished and iconic riding event in October.
Until then, safe and happy riding. 
All relevant information can be found here.