Queensland's Premier Rail Trail Event
We are excited to announce that Bicycle Queensland is partnering with the Brisbane Valley Rail Trail Users Association Inc to bring you the BVRT Festival of Cycling in 2021.
Mark your calendars for…
Saturday the 5th of June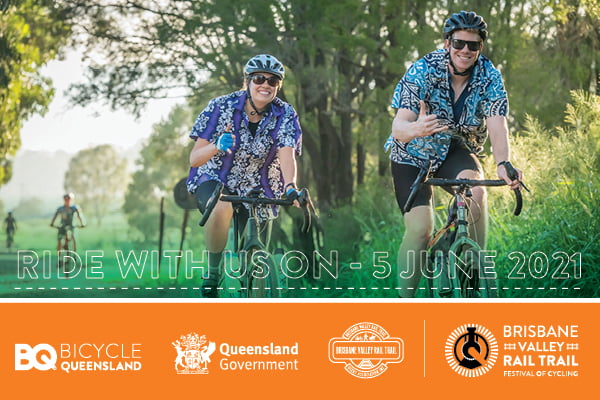 Riders will have the choice of choosing their personal challenge of either;
161 from Wulkuraka to Yarraman – End to end!
75km from Toogoolawah to Yarraman
44km from Linville to Yarraman
The ultimate, fully supported Rail Trail Adventure!
No one knows the Brisbane Valley Rail Trail better than the Users Association, this knowledge mixed with the years of experience Bicycle Queensland has delivering events, this event is sure to be a hit! But the ride isn't all that's happening on the 5th of June, thanks to the Yarraman Business Group the event will conclude at a major event village & finish line festival! With music, food and markets running from 10am to 4pm your family and friends can enjoy the township of Yarraman while they await your arrival.
This is a fully supported cycling event with a fully approved Industry COVID-19 safe plan to ensure your safety. Rest stops with plenty to keep your fueled, ride marshals, first aiders, bike mechanics and support vehicles are all apart of the event to make sure it's a great day's riding.
The Brisbane Valley Rail Trail can be a bit rough in places, so this ride is more suitable for mountain bikes, gravel bikes and cyclocross bikes. Legal E-MTBs are welcome of course.
Transport back to the start lines can be purchased separately or you can make your own arrangements. We recommend brining your family and friends along for the fun! More details will be announced as they come to light.
Tickets will go on sale in March 2021 on Eventbrite.
In the meantime, why not keep up to date on the Facebook Event.
This event is proudly supported by the Queensland Government.