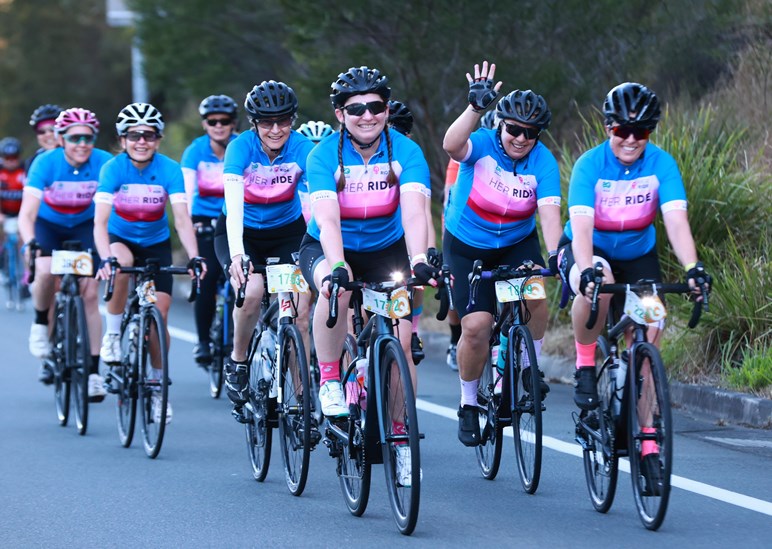 Registrations are now closed.
Her Ride aims to improve your riding skills and knowledge to improve your riding confidence
and help you to choose to ride your bike more often.
The program:
9 bike riding skill development sessions over 4 weeks from Sunday 5 November to 3rd December 2023
Run by professional riding coaches, you will learn bike maintenance, riding in groups, road riding, climbing and descending and more
The first session is compulsory as it's used to assess your skill level and group riders accordingly
Sessions will run Sundays 6:00 am to 9:00 am and Wednesdays 5:15 am to 6:45 am
Location: Gould Adams Park, Kingston Road, Kingston QLD 4114
Prerequisites:
You must be able to ride a bike, including starting and stopping unassisted
You must supply your own helmet and bike (road or hybrid preferred)
Your bike must be in good working order, e.g. brakes, gears, pumped tyres
Other Inclusions:
Complimentary Her Ride jersey ($100 value)
3-month Bicycle Queensland membership ($39 value)
Starter pack thanks to Specialized, including essential safety items and accessories ($85 value)
Complimentary coffee after each session to build on social connections
Please note:
Your Bicycle Queensland membership will automatically renew for 1 year at the conclusion of your 3-month membership. We will send you a courtesy reminder email before processing payment; please contact us if you don't wish for your membership to automatically renew.
Proudly supported by the Queensland Government
Starter packs courtesy of
INTRODUCING THE COACHES
Kirsty Broun
Kirsty is a Level 2 Road and Track Coach with Aus Cycling and a former dual-time Australian Road Cycling Champion (Criterium), representing Australia in events such as the Route de France, Giro d'Italia, Tour of Qatar and Tour of New Zealand.
Since 2012, Kirsty has been coaching cyclists on how to become safer cyclists on the roads. She has worked with Brisbane City Council, Cycling Clubs and Bicycle Queensland on how to develop cycling skills and encourage safer cycling practices amongst the cycling community.
With the core value of her cycling business being "get skilled, get safe", Kirsty is passionate about teaching women how to have the confidence and ability to be safe on the road.
David ('Dave') Shelberg
Dave has more than 10 years coaching experience with beginner and intermediate cyclists, including teaching cyclists in safety skills, group riding skills, fitness, and one-on-one sessions.
Dave has coached women and been a team leader in many cycling organisations, including MB Coaching, Bikestyle Tours, Kirsty Broun Cycling, Planet Cycles and Brisbane Cycling Club.
Recently, Dave was awarded the Brisbane Cycling Club "Person of the Year" for his support in cycling. He also races bike for his own fitness, with his most recent result achieving 7th at the Australian Masters Road Cycling Championships.
Rachel Durdin
Rachel is a former Australian hockey player and has had a long history with coaching athletes in the sport. When she finished her hockey career, she found cycling as a great form of low impact exercise, exploring the world of triathlon and competing in events like Noosa Triathlon. During this time, she trained with skilled coaches and riders learning the best practices in group riding technique.
Over the last three years, Rachel has been riding with Kirsty Broun Cycling and a not-for-profit charity called Sisters of the Saddle. She has developed a high level of cycling skills with the focus on safety and inclusivity. Rachel is passionate about getting more women into cycling. She is recognised for her tireless work in gender equality so when asked to come onboard with the coaching team for the BQ Her Rides Program, she loved the opportunity and proudly accepted the position.
We have employed the best coaches for you!
These coaches will support you with a kind, friendly and professional manner over the next four weeks. Whether you are a beginner or experienced cyclist, they will motivate, encourage and empower you achieve the unthinkable!