Bicycle Queensland proposes pop-up bikeways in Brisbane's CBD
In efforts to improve cycling accessibility throughout Brisbane's CBD and adapt to the recent surge of cyclists, Bicycle Queensland has put forward concept plans to Brisbane City Council and the State Government for separated bikeways on George Street and Mary Street.
The journey of so many CBD cyclists is hazardous, putting not only existing riders at risk but also discouraging any potential cyclists from commuting to the city. As a solution to this problem, the 'pop-up' lanes proposed by Bicycle Queensland will provide a safe route for existing and future riders to cycle through the CBD.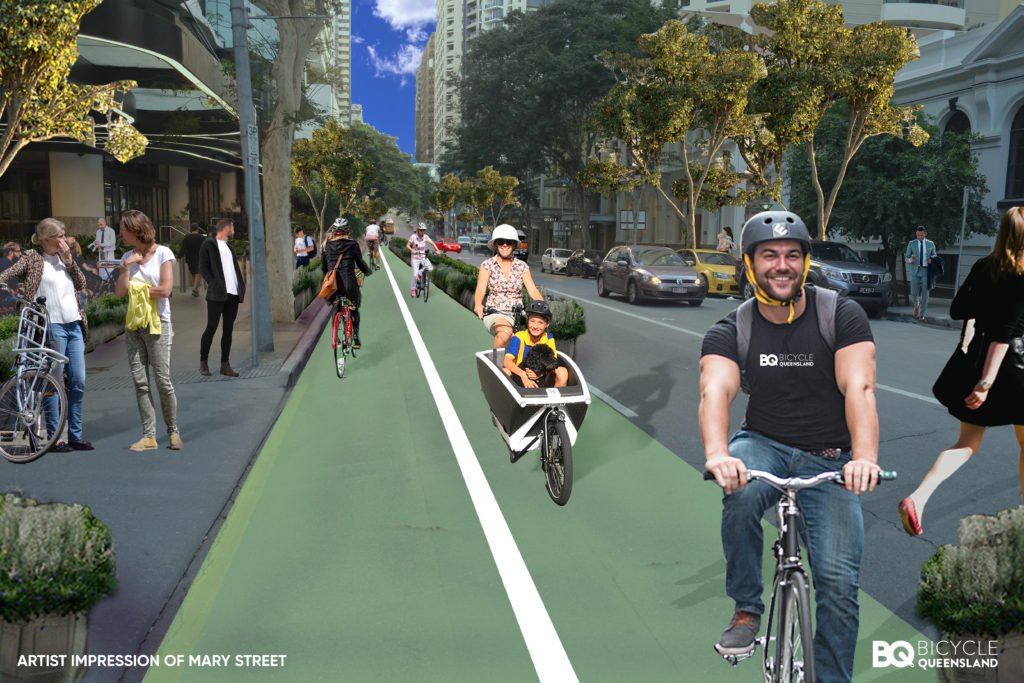 Safety is a priority for all cyclists
"Improving safety and convenience in the CBD itself takes away one more major barrier for people who want to return to their workplaces, but don't want to be stuck in traffic for hours", highlights CEO of Bicycle Queensland, Rebecca Randazzo. "People who work in the CBD need incentives to leave the car at home, and get to work by bicycle and walking,". The proposed pop-up bikeways aim to drastically improve the safety and cycling experience for thousands of city workers, students and delivery riders in the inner city.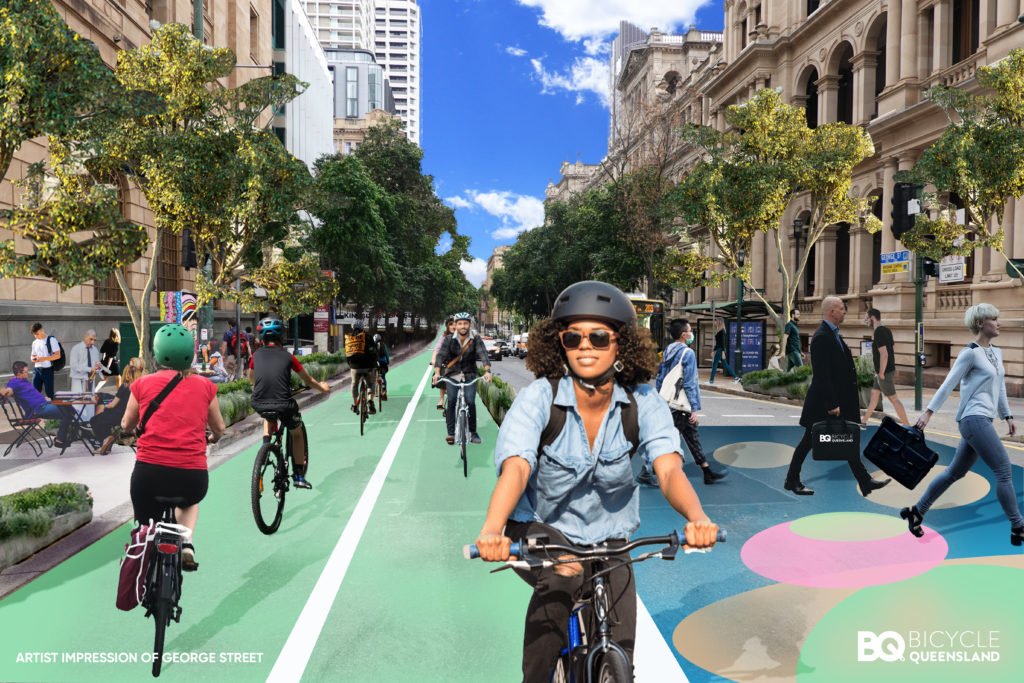 The advocacy team have felt strongly about pushing for more CBD bike lanes for some time, however we believe now more than ever is an opportune time to fast track the long-term plans of an inner-city CBD grid. We know first-hand that new riders prioritise safe infrastructure as a deciding factor to whether or not they keep riding. Having pop-up bikeways implemented in busy CBD areas is our first proposed step to making riders feel more safe and comfortable riding through the city.
The proposed plan
Before developing these plans, we consulted with expert Government stakeholders and contacts to ensure our proposed ideas were viable. The plans show a 3-metre wide, bi-directional bikeway extending from the existing lanes on George Street along to Mary Street. The Mary Street bikeway flows from George Street through to Edward Street, ensuring a seamless experience travelling from an east to west direction in the CBD.
Construction for the Queen's Wharf precinct and the Cross-River Rail have affected both George Street and Mary Street, changing road conditions and limiting car usage. Repurposing these streets and implementing pop-up bikeways supports active commuting in the city with minimal change to current road setups.
"The last thing we need is for every person who usually takes public transport to the city getting into their cars".

CEO of Bicycle Queensland, Rebecca Randazzo
It is important to note the plans do require the removal of some on-street parking on both George and Mary streets, however both on and off-street parking is available nearby. The infrastructure can be achieved in a matter of days by using barriers and line divides on existing roads. This projection is similar to the planned pop-up cycle ways recently announced for Sydney.
Rebecca Randazzo makes a valid point concerning social distancing implications on transport, stating that, "Public transport continues to be a difficult proposition for many people as we come out of the pandemic but still continue with social distancing."
The plan moving forward
Bicycle Queensland's advocacy team were proud to present these plans to Brisbane City Council's chair of Public and Active Transport, Cr Ryan Murphy, and also separately to the State Transport and Main Roads Minister, the Hon Mark Bailey MP. We will endeavour to keep you all updated with progress on the proposal moving forward. Bicycle Queensland's advocacy team would like to thank CBD BUG and Space4Cycling Brisbane for prior work done on this idea and previous BQ campaigns.
If you are interested in finding out more about this proposal, you can read more via the link below:
CBD Pop-up Cycle Space Proposal
Riding across Australia to break the cycle of poverty
Nellie and Richard Logan embarked on a bike ride of more than 4000km over 28 days to help raise funds for children facing poverty. They have raised almost $950,000.