Crows Nest scenic gravel loop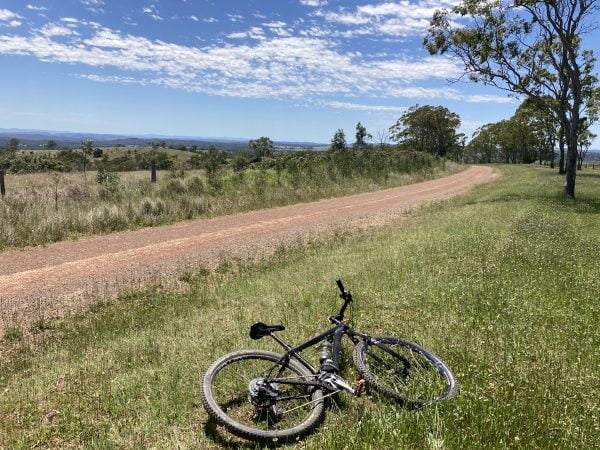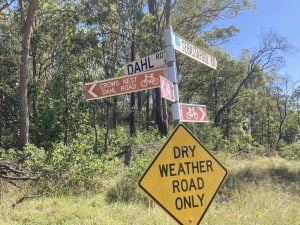 Rick Galbraith, a member of the Crows Nest Tourist and Progress Association has a vision for getting more people to visit his town. And it involves bikes!
Mountain Bike Mecca is the website that Rick has set up. It lists a series of signed routes on the abundant gravel roads around Crows Nest, the 'High Country Hamlets' region of the Darling Downs, just 43km north of Toowoomba.
The site lists seven rides, and we've linked three of them (Dahl Road, Gunters Hill, and Bald Hills Jaunt) together for this gravel loop.
On 'Where to Ride' we have reserved 'mountain biking' to mean single trail, so we are classifying this one as a gravel ride. Our test rider rode his hardtail rigid mountain bike, so there is certainly a blurring of categories here. Experienced gravel riders will have no technical concerns on these great back roads.
Our route starts and finishes in Crows Nest, which is a bustling little town of about 2000, and multiple cafe and bakery choices.
We left town on a bright and clear November morning, heading out on Three Mile Road towards Crows Nest National Park, which has a campground, cascades swimming hole, a lookout and a waterfall to recommend it. On this occasion we skipped the delights of the National Park, but our test rider fondly remembers a bikepacking trip in 2014 that included a chilly night spent at the campground.
Soon after the National Park turnoff, Three Mile Road becomes gravel, but its a good surface and a wide enough road for two cars to easily pass each other. The next 6km is a steady climb to Three Mile Road and then Dahl Road, and then a return toward Crows Nest on Back Creek Road. There are some steep pinches on Dahl Road, which becomes a very minor road indeed in these sections. We suspect that more bikes use this road than cars, it is very quiet.
Just before arriving back in town we once again turn away, and gain some height again on the bitumen on Pierces Creek Road. A left onto Byers Road yields one of those classic viewpoints in farming country with the road encased in an avenue of trees as we look out over field cleared for grazing. Then the hardest hill of the whole loop as we struggle our way to the top of Gunters Hill. The surface is red dirt, and is definitely dry weather only.
Byers Road becomes Pit Rd, and we roll down past the Crows Nest Pistol Club, still enjoying the views on the way down.
We rejoin the bitumen for a few hundred metres on the New England Highway and then a quick left for the climb up Plainby Road.
At the top of Plainby Road we take a left on Bald Hills Road, and begin to admire the scenery visible on both sides of the road. This was our last and toughest challenge for the day, and most of the rest of the ride is downhill back to Crows Nest.
We arrived back in town ready to try out the pastries at My Little Blueberry. If you are in Crows Nest on the wrong day for My Little Blueberry, the Nest Cafe or Harpers Country Cafe will look after you just fine too.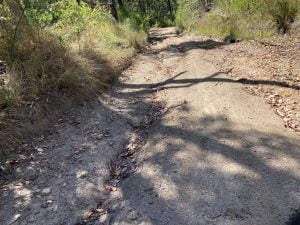 Mareeba to Atherton
Closer to heaven than where you come from The Atherton T...