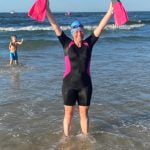 Our Membership Coordinator, Amanda, decided to add learning how to swim to her goals list! Her recap is below.
Learning how to swim as an adult is probably the second hardest thing behind parenting (in my opinion). There's so much to concentrate on – the right action, how fast or slow should I kick my legs and move my arms, staying afloat, and most importantly, taking in air and not water.
My first memory of swimming is of a four year old me, wearing floaties in my neighbour's pool. I would hang out at the shallow end, although I do remember feeling like a big girl when I made it to the deep end. My formal swimming training growing up consisted of five hours once a year in primary school. I learnt to tread water and tried all the different strokes. Everything was ticked as satisfactory so maybe the instructors had some confidence I could keep afloat.
Fast forward a few decades to 2017, and I entered the Brisbane Triathlon Pink – the ultra distance because it had the longest bike ride – 16km! Apart from raising money for a good cause, you swim in a pool, can use a noodle, and walk as much of the run as you want! I couldn't swim freestyle, but I had my version of breaststroke. I was last out of the pool and got a big cheer from the next wave of entrants. Maybe they were encouraging me; maybe they were excited they could finally start their race!
For my 2022 goals list, I added three swimming lessons. After contacting a few places without luck, I was about to give up when I was given the details of a coach. I started weekly lessons one night after work and in addition committed to two sessions of 'homework' each week.
My poor coach. Had he known what he was in for, he probably wouldn't have taken me on. I turned up in a long-sleeved rashie and gym shorts, couldn't swim 25m freestyle with flippers and probably consumed more than 8 glasses of chlorinated water each swim. While I consider myself to be fit, swimming fitness is another level – I was so out of breath!
Coach quickly identified I needed a nose clip and I changed the terminology from swimming to 'not drowning' lessons. He was very patient and tried to teach me gradually. I couldn't get the hang of turning my head to get air, so I learnt how to corkscrew down the pool – two freestyle, two backstroke. The light bulb moment was when he said "imagine you're taking a nap on your arm". I was terrible at kickboard drills, in particular one arm drills because I had to figure out which side to breathe on, and anything that involved counting. I learnt many things, like elegant fingers, trying to breathe on both sides and imagining I was swimming through a field of flowers! We gave somersaults a go, but they were not for me.
Eventually I went from having to stop three times in a 25m lane with flippers to no stopping – still gasping for air at the end. It took quite a while to achieve this, but the next big milestone was 25m without flippers. I never thought I would see the day I could make it 50m without flippers, but the morning I did, I was super proud. Apparently you're supposed to 'feel the water'. I'm still trying to figure out what this means, because I certainly have felt the water – going down my throat and up my nose.
I tried open water swimming in October in the mates and family wave of the Noosa 1000 Ocean Swim. It was super choppy but there I was with my flippers and nose piece giving it a go. I was so out breath swimming to the first buoy that I didn't have the confidence to freestyle, which I was disappointed about, but swimming with an encouraging person got me through. I have another open water swim on my list this year – let me know if you have any suggestions about which one! I have also thought about a long distance triathlon next year where first timers can use flippers, but I'm not committing – yet.
There have been so many times I wanted to stop learning how to swim. Slow progress and constant overthinking about why am I doing it, I don't have to do it, it's too hard, I'll never get the hang of it. However, I've realised that I don't have to be good at it, and it's okay if progress is slow and to keep using swimming aids. Maybe my purpose has now changed from learning how to swim to swimming as best I can with the ability and tools I have. At the end of the day, swimming is a good cross-training activity for bike riders, providing low impact, whole-body exercise while maintaining endurance for riding.
During February I'm taking part in the Starlight Super Swim, raising money for the Starlight Children's Foundation to put a smile on the faces of sick kids. My target is to swim 7km and raise $500. You can track my progress or donate here!
As always, keep challenging yourself and never give up – unless you hit your head on the pool wall doing backstroke. Then it's time to get out for the day and try again later.
If swimming is not your thing, you might like to try other cross-training activities that will benefit your bike riding such as running, hiking, strength training, yoga or pilates. Depending on the activity, these will help build your core, overall strength and fitness and bone density!
If you haven't already, don't forget to cover yourself with a value packed BQ membership.