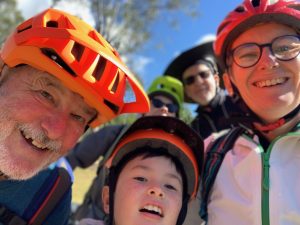 Bicycle Queensland's Chair and Director, Rachel Nolan has ridden the Brisbane Valley Rail Trail each year end to end across four days since her son was four years old, he is now seven. Below is Rachel's guide on how to ride the Brisbane Valley Rail Trail!
Brisbane Valley Rail Trail
The Brisbane Valley Rail Trail is Australia's longest rail trail running 161km from Yarraman in the South Burnett to Wulkuraka on the outskirts of Ipswich. The full trail opened in 2018, with the full history available here.
The trail is generally dirt with concrete sections, however it can be comfortably ridden with fairly basic riding ability.
The Logistics
To get to the start of the trail, we use the shuttle service provided by Out There Cycling (book online, around $80 per person Wulkuraka to Yarraman). The bus picks us up at the trail head and takes around 90 mins to get to the other end at Yarraman.
We live in Ipswich so we ride from home to the start but if you're coming from elsewhere, you could get a very early train to Wulkuraka and ride the less than 1km to the trail head at Grace Street, Wulkuraka or you could leave your car in the carpark there. I've heard people have done this for days with no problem.
Day 1 : Yarraman to Linville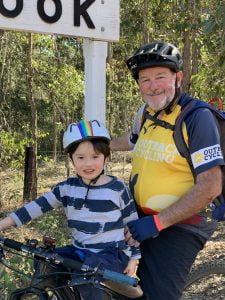 I've done this ride just with my son, with my parents and with friends. It's always been with people who have pretty reasonable fitness but varying levels of technical bike ability. We aim to ride about 40km a day, which I think is enough for my son on a tagalong.
The first day is glorious, Yarraman to Blackbutt is through open, rolling country with lots of grass trees. We stop for a sausage roll at the Blackbutt Bakery, then roll the downhill section to Linville. In Linville we stay at Linville Country Cottage which is not cheap but very pleasant. There's also accommodation at the fantastic Linville Hotel, which is where we go for dinner.
Day 2 : Linville to Toogoolawah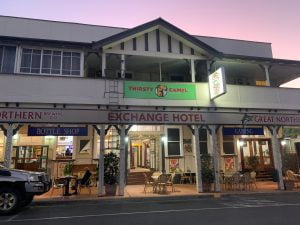 The biggest hills (not that big) and the cool tunnel are on Day 2!
We have breakfast before leaving, then have great coffee at Kai Lounge in Moore, lunch at Harlin (pub or service station) and make it to Toogoolawah by early afternoon. The Toogoolawah Exchange Hotel is a brilliant, unadulterated country pub (about $80 per room per night). This time we arrived on cattle sale day so we checked that out in the afternoon.
Day 3 : Toogoolwah to Coominya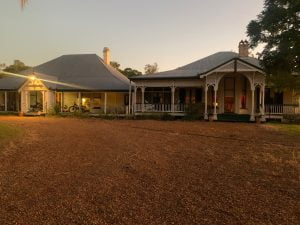 After breakfast at the Hav'A Chat cafe, we ride to Esk where there's a great new coffee roastery right next to the trail. There's a long gentle hill up Mount Hallen from Esk, some steep gullies (you can walk), then a fast 10km burn into Coominya.
We always stay at Bellevue Homestead and it is an extraordinary experience. The homestead dates from the 1840s and is a remarkable colonial building with warm and generous owners. There are great pub meals at the Coominya Hotel. Coominya is tiny so if you can't get that accommodation, you can go on another 12km and stay in Lowood.
Day 4 : Coominya to Ipswich
A great roll downhill out of Coominya to the Lockyer Valley bridge, a trestle bridge which the current state government restored for the rail trail. At Fernvale we have a sausage roll (coffee and slice for adults), then 23km back to the trail head in Ipswich. Each day we finish riding by early afternoon so there's lots of beer, nap or reading time in the afternoon.
Costs and booking
The only real key to logistics is to work out how far you want to ride each day and book around that. The Department of Transport and Main Roads (which own and maintain the trail) provides a reasonable website here. The Brisbane Valley Rail Trail Users Association has a really good website which has a super useful distance calculator.
For us, over four days, it can take a bit of organisation to get accommodation available on the right nights.  For this trip, I wanted to go on the Anzac Day or Labour Day long weekends but left booking too late so we ended up on the Ipswich Show Holiday long weekend.
With 5 people (4 adults, one child) the trip this time cost:
| | | |
| --- | --- | --- |
| Day | Total cost | Cost per person |
| 1 – Shuttle | $400 | $80 |
| 1 – Linville Cottage | $500 (includes breakfast makings) | $100 |
| 2 – Toogoolawah Exchange Hotel | $85 room for 2 | $45 |
| 3 – Bellevue Homestead | $290 (including cooked breakfast) | $60 |
| Meals (estimate of 3 pub dinners, 4 café or bakery lunches and 1 breakfast) | | $180 |
| TOTAL | | $465 |
Bike set up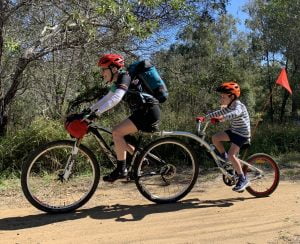 I take my son on a WeeRide tagalong (99 Bikes $285), which I tow behind my carbon fibre hardtail MTB. My friend Jim who we rode with this time, rides an aluminium hardtail MTB and my parents have e-bikes.
I take spare tubes for both bikes (two for me, one for the tagalong), tyre levers, a hand pump, an Allen key set and a bike lock.  You could get away without the lock if all your accommodation has lock up bike storage (and you're going to stop for lunch with your bike in sight).
It's worth doing a bike service before leaving. The one time I was busy and didn't, I had both a bike shoe blowout and a broken pedal. It was all a bit of a disaster, although Out There Cycling (who run a bike shop in Moore) bailed me out with flat pedals.
Packing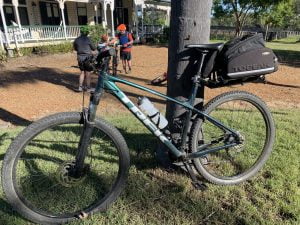 Having done a lot of bushwalking, I am massively uptight about weight. I also get a sore back if my pack is too tightly packed (pulling back my shoulders) or too heavy. In my case, I'm carrying the gear for both my son and I so the basic rule I'm following is two sets of bike gear (in case it rains), one set of evening clothes (including warm stuff) and that's it.
Because of my back pain, this year I bought a Zefal handlebar pack (about $100, 99 Bikes). I put the heavy stuff (tubes, lock, shoes) in it and it was total gold.
Packing list (including what we were wearing):
Rachel
Son
Other
• 2 knicks
• 2 jerseys
• 2 sports bras
• 1 set sun sleeves
• 1 bike rain jacket 
• Bike shoes
• Helmet 
• (I only wore one set of bike gear so next year might ditch the second)
• Light pants
• Thermal tights 
• Thermal top 
• Puffer jacket 
• 2 pairs undies 
• Light slip on shoes
• 2 pairs shorts
• 2 long sleeved shirts
• 2 x undies
• 2 x singlets
• Rain jacket
• 1 jumper
• 1 pair fleece tracksuit pants
• PJs (not strictly necessary)
• 1 pair sandals
• 1 pair sneakers
• Moisturiser (tiny tube)
• Toothbrushes, toothpaste
• Comb (brush is too big)
• Sunscreen
• Pawpaw ointment (which is just as good as chamois cream, and does lips as well!)
• A bag of snakes and a couple of gels
• Water bottle (I use a short bike one because I'm often filling up in bathrooms and the tall ones don't fit)
The Conclusion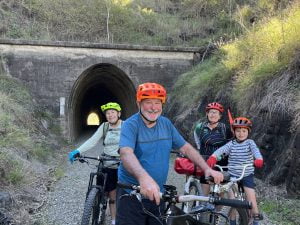 I cannot tell you how much I love the BVRT and am thrilled that in Ipswich (and to a lesser extent, our satellite city of Brisbane) it's just right there. I can be working, stressed and caught up in my "stuff" but it's great to know the BVRT is a whole other world, and it's 2km from my house. I do admit to an extra pleasure because it was largely built when I was in government and I just think we did a damn good thing!
Riding it each year with my son has been a total joy. At first, when he was three, he went on a Mac Ride (a top tube seat) with my father. At four, we got the tagalong and while he's getting heavier, he also pedals more now.  I reckon he'll make the transition to riding himself on his own bike when he's about nine or ten– but we'll see.
Each year, we enjoy different things and each year, there are more people on the trail, the coffee gets better and the spirit around it improves as it's increasingly discovered. The first year, the logistics took a bit of working out (which is why I've written this, and I also recommended the website mentioned) but now that I've worked it out, it's easy and a joy that's right there.
My goals as a parent are pretty simple. I want my son to feel loved, to be intellectually curious and to have the confidence to go out in the world, including the outdoors. I feel certain that riding the BVRT together is giving us all of those things!
Discover more of Australia's longest rail trail here!