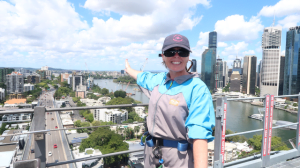 Our Membership Coordinator, Amanda Hernandez, faced her fears head on! Read on to find out how.
Over the past 6 or so months, I've been sharing some experiences from my annual goals list; Sunshine Coast 70.3 bike/run, running the Brisbane River Loop and learning how to swim as an adult.
Why do I have a list? Someone once asked me how many kilometres I was aiming to ride the next year. It's something I'd never thought about. I ride my bike for fun and fitness, and while I find numbers fascinating to look back over the course of a year, like how far or how much elevation I've ridden, I don't set out to achieve a goal distance, elevation or fastest time. I feel it takes the enjoyment out of riding.
However, there were a few things I had always wanted to do but I never seemed to get around to doing. That's when I started having a goals list. I found if I put something on a list it forced me to plan and make time to accomplish it. It started out with riding each section of the Brisbane Valley Rail Trail (BVRT) and grew from there. Running 6 km non-stop to running each section of the BVRT, riding 100 miles to riding 200 km and so forth.
It's not just about a list of things to do. It's also about challenging myself to step outside of my comfort zone and grow; to achieve things I never thought I could, because I didn't think I had the ability, fitness, stamina or because I was too scared to try. Like riding up Mt Coot-tha – I met some great people through Brisbane Chicks Who Ride Bikes, and with their help, me and a few others rode our first loop of Mt Coot-tha. I went from being scared of giving it a go, to riding back segment repeats and looping around it for 100km. It now feels like my second home.
I have always been scared of heights, especially when I'm not standing on solid ground. I'm generally okay climbing up something but coming down is a whole other story. I am not agile and my legs turn to jelly!
I've ridden over the Story Bridge many times, plus on the boardwalks and bikeways around it. It's certainly an icon of the Brisbane skyline, especially at night. I knew you could climb the bridge, but I had never seen anyone climbing it. This year it made my goals list. Was I scared? Absolutely, but I was going to give it a crack!
It's always fun to impose my goals on others when I can, so I recruited my husband and teenage boys who are also scared of heights. The promise of lunch afterwards helped. I booked a day climb and was able to take advantage of the kids climb free with an adult offer. Love a good bonus! Before climb day I happened to ride over the bridge one afternoon and, for the first time, saw climbers! They were at a standstill on some steep steps, and I started having second thoughts – I don't want to stop while climbing, I need to keep moving! Too late because it was booked and paid so I couldn't wimp out now!
Climb day arrived and we stepped into our harnesses and bridge climb outfits – grey and blue to match the bridge and sky so drivers aren't distracted. "Who's scared of heights?" the climb leader asked. My hand was quickest to rise. She was an awesome climb leader, giving clear instructions and allaying most of my fears. In particular, it was good to know how far underground the bridge was supported. I can confirm it's a very solid structure; no wobbling or vibrating.
We started our climb up those steep steps I had seen the climbers on a few weeks before. Everyone is clipped into the railing at that point, hence the standstill while the final climbers are clipped in. If you're scared of heights, go towards the back of the group, but not last. The steepness of the steps lessens further up, but as we ascended, I wasn't looking forward to climbing down face-forward.
The climb leader kept checking in with me, so I shot back a thumbs up to confirm all was okay. The view from the top is amazing and well worth the fear of the climb. We were educated on all things to do with the bridge. I won't give too much away because I thoroughly recommend you do the climb, but it was very interesting to know that of the over 1.25 million rivets, inserted by hand, only 1 has had to be replaced since it was built around 85 years ago. If that doesn't give you confidence the bridge is not going to collapse while you're climbing it, nothing will.
I enjoyed it so much I will head back one day for the twilight climb. I might leave the kids home though. There's only so much "Mum, are your shoelaces tied up?" jokes I can take in their attempt to make me look down through the gaps in the steel at the traffic passing underneath.
As always, don't stand still – keep challenging yourself and step outside of your comfort zone. Find others to support, encourage and join you on your journey. There's still a lot more on my list this year, what about yours?
For more information about riding Mt Coot-tha, along with other great places to ride throughout Queensland head to on our Where to Ride page.
If you haven't already, don't forget to cover yourself with a value packed BQ membership.