Bicycle Queensland members Nellie and Richard Logan embarked on a bike ride of more than 4000km over 28 days, to help raise funds for children facing poverty. Read the recount of their amazing journey below:
On 17th September 2022, Richard and I headed out with a team of 22 cyclists and 15 support crew from Cottesloe Beach, Perth to begin a 28-day ride across Australia. Our final destination was Bar Beach in Newcastle NSW, 4200km away and our goal was to raise $1 million for Compassion's Critical Needs Fund and see 150 children sponsored.
We were an odd assortment of riders from all over the country, some had done this ride previously and others had never ridden in a group. A few cyclists used to race in their younger days, one even at an elite level. One man had ridden across a few continents. Then some had never done a multi-day ride before training for this event. Our backgrounds varied from businesspeople to teachers to physios to working in IT, we were a mix of ages and sizes.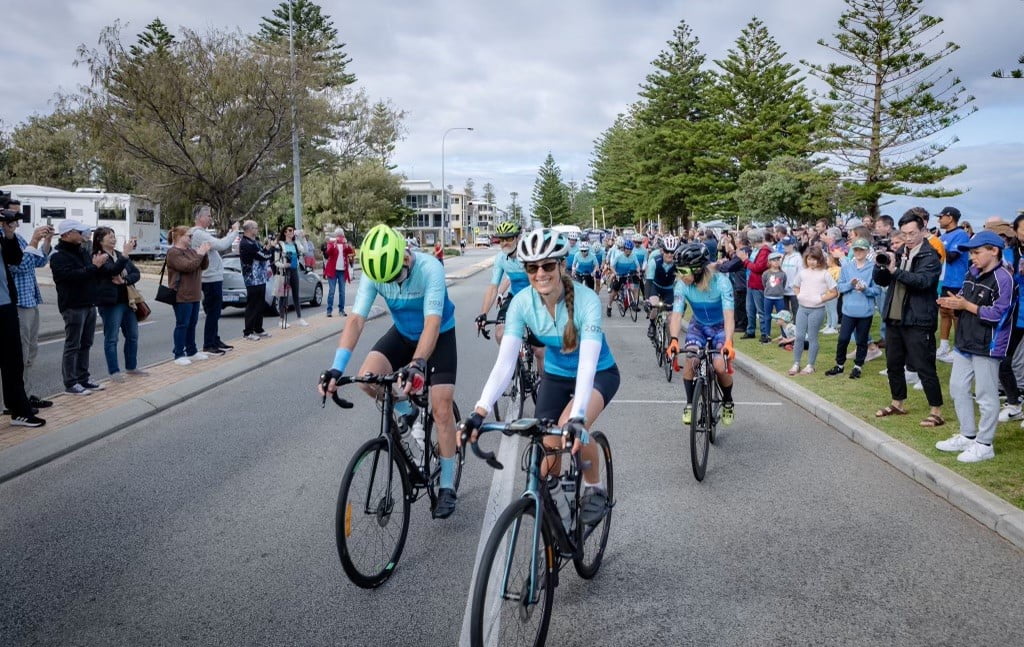 The accommodation was also a bit of a mix. We would find ourselves in caravan park cabins, or roadhouse motels (sometimes squished in because there weren't enough rooms to accommodate us). Many times we would be bunking down together in church halls or sports centres. Occasionally we got billeted out to locals. We stayed in a few delightful old buildings, such as the Catholic Convent in Coolgardie, a beautiful 120-year-old plus property in Muswellbrook, and the town hall at Burra that is now a museum.
There were many tests along the way, headwinds of 30kph, crosswinds up to 50kph, sickness, rain and rain mixed with coal dust (we were filthy dirty that day). Even icy winds coming straight off the Southern Ocean. There were long days in the saddle, sometimes arriving just as the sun set. We dodged kangaroos, emus, and snakes on the roads, we came across the occasional cranky truckie who would decide to pull in a little too soon after overtaking. There were plenty of highlights, seeing the beautiful landscapes, like the green rolling hills near Burra, meeting the townsfolk who would openly welcome us and feed us.
Each morning Richard would give us the numbers for the day, distances to each stop and the elevation report. We'd also get a weather report and a reading of a child story. These child stories would tell us of the hardships faced by children living in poverty and how Compassion has made a difference in their lives. These child stories were powerful reminders to us of why we were riding.
Riding along the highways and through the towns sparked plenty of interest. Truckies would honk in encouragement, some would even ask how to donate. Caravanners would come and visit us in the evenings, telling us they had passed us along the way and would then give us a donation to the cause. Sometimes people would even pull up on the side of the road to pass on a donation. Richard had a local come and chat with him one lunchtime. The guy told him not to leave town just yet, the fellow took off and came back 10 minutes later with some cash in his hand. In Port Pirie, the local bakery donated pallets of bread and donuts to the team after one of the team members popped in for a pie and told them what we were up to. We were overwhelmed by the generosity of people and their kind hearts.
We met plenty of characters along the way. 10-year-old Ethan from Minnipa was quite enamoured with what we were doing, he rocked up on his bike the morning we were leaving Minnipa. One of the team gave him their jersey, Ethan put on his new jersey, jumped on his bike, and led us out of Minnipa, despite the rain. We later heard from his Mum that Ethan had been saving for a phone but he would now like to donate his savings to the children of Compassion.
Then there was 84-year-old Doris. We met Doris in Parkes at a church meeting, and she also came down to see us off. Doris was on her red push bike, and once again led the team out!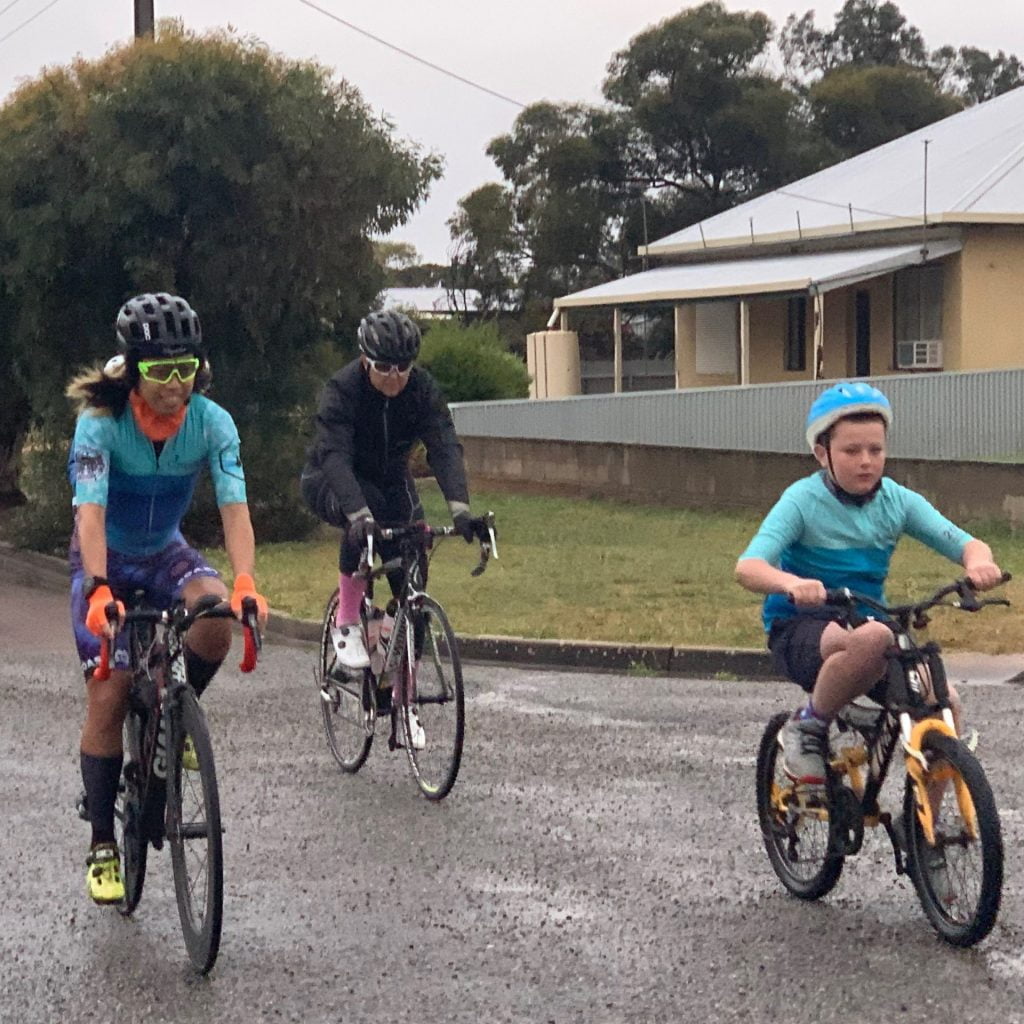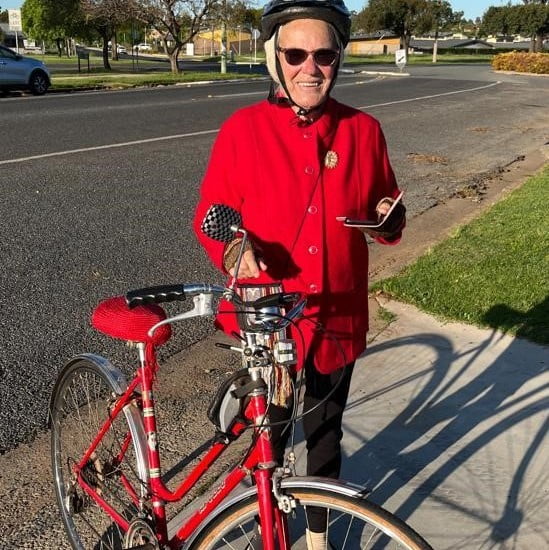 One of the most heartfelt was meeting Linda from Kenya. She told us that her brother had been sponsored through Compassion and proceeded to tell us how it had made a difference to her brother and their family. We also found out that this woman was born in the same town as one of our support crew. Wow, to hear first-hand the work of Compassion.
Our last days were our biggest in elevation and some of our longest in kilometres. We had to cross the range to reach the coast, and what a welcome we received as we road into Bar Beach! The footpath was full of friends and family and all the Compassion Staff from all over the country, there to greet us and cheer us in. It was a very emotional moment. We had done it, we had made the journey across Australia. We fostered awareness of the great work Compassion does in developing nations, and we had raised much-needed funds for children living in poverty. We aim to reach $1 million, the current tally is almost $950,000.
Thank you Bicycle Queensland and members for your support.
Nellie and Richard are keen to reach their target by the end of 2022. To help break the cycle of poverty you can sponsor a child or donate to Compassion's Critical Needs Fund.
If you'd like to become a member and help support more people riding more often, join us here.